Sold
Young, Trained Dog for Sale

Cregg (DOB June 2014) is keen to work, eager to please, and listens well. He knows his flanks, is on whistles, can drive and cross-drive, shed, do a turn-back up close (@ 100 yards), and low heel. He just started working singles. He does 350-yd outruns—will be able to do longer outruns with exposure. He was introduced to cows in February and worked them with no problems. He has run in just a few trials (Ranch/ProNovice). With more experience, he should make an Open dog.
On his sire's side are some of the best Irish trial dogs to have competed over the past decade, including Michael Gallagher's Cap (3rd in 2011 World Finals; 4-time Irish National Team member; 4-time International Supreme Finalist, and 2010 Int Supreme Champion), Aiden Gallagher's Jimmy (3-time Irish Team member, 2-time Irish driving champion, Finalist at 2013 Int Supreme, 2014 World Trial team member) and Bill (5th in 2008 World Trial; 2-time Irish Team member, and sire of M Gallagher's Flo), and James McGee's Becca (7-time Irish Team member, 2-time Irish National Champion, 4-time Int Supreme finalist, and 2011 World Champion).
As a pup and young dog, Cregg lived in my house with five other dogs, was crate-trained, well-socialized, and a good traveler. He "checked in" on walks, and his recall was solid. He has been away for training for awhile.

Contact me for price and video. Please include some information about yourself, your set-up, and your experience/goals related to border collies.
Mary Whitmore
(Ad expires 04/03/2017)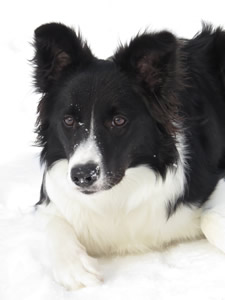 Pedigree
for Cregg